The areas in the Stockholm region that were the hardest hit by Covid-19 in the early pandemic phase during spring 2020, were characterized by a younger population in combination with lower socioeconomic status. This is shown in an article in British Medical Journal Global Health, by researchers from ARC/NEAR and the Institute of Environmental Medicine, Karolinska Institutet.
The findings can be important in the development of future shielding strategies against future resurgences of the COVID-19 infection or other pandemics.
Read the full article  by Amaia Calderón-Larrañaga and coworkers (Open Access)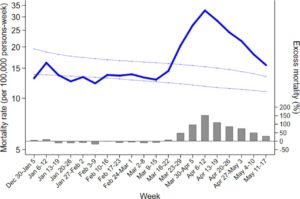 In Läkartidningen, 30 leading Swedish researchers in aging research offered their help to the government and Swedish governmental agencies to secure the best care for the elderly, the group most affected by the coronavirus.
Read the opinion article here»»
NEAR PI:s and other Swedish aging researchers wrote an opinion piece for Sweden's largest newspaper Aftonbladet, regarding age discrimination during the coronavirus pandemic.