Organization
NEAR is organized as a consortium (defined and regulated by the consortia agreement) that includes eight universities: Karolinska Institutet, the universities of Umeå, Jönköping, Gothenburg, Lund, Uppsala, Stockholm, and the Blekinge Institute of Technology.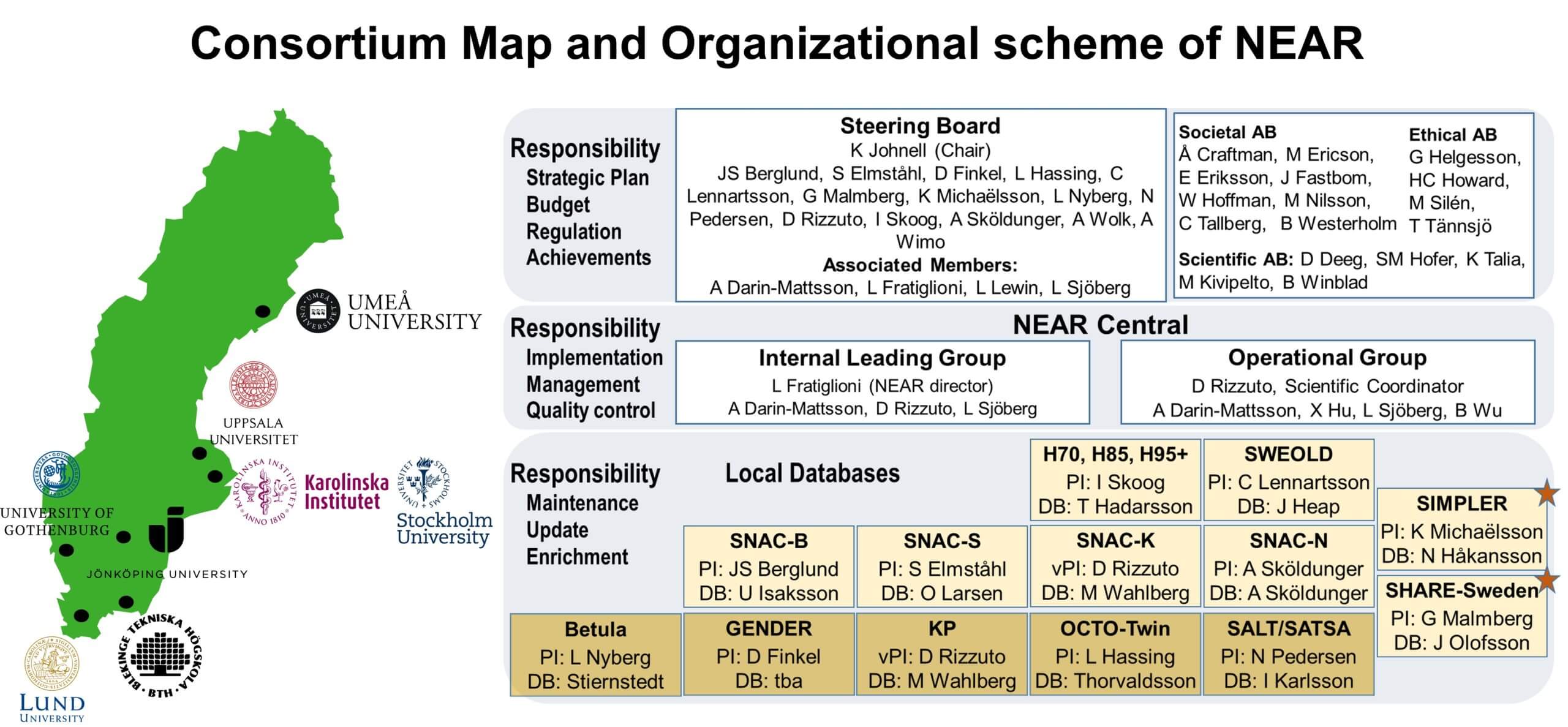 (click to view the image in full-size in another window) 
Overview – Organization of NEAR
Steering Board (SB). NEAR is led by a SB appointed by the eight university-members of the consortium. The SB comprises a chair and one representative for each of the NEAR databases. Associated members include the NEAR Director, a representative from the KI's Board of Research, as well as the NEAR Database Coordinator and Scientific Communicator. The SB has full decision‑making power and are responsible for the strategic plan, budget, regulations and achievements of NEAR. 
Advisory Boards (AB). The SB has established three ABs: the Societal AB (SoAB), Scientific AB (ScAB), and Ethical AB (EAB). They include distinguished specialists who play key roles for societal, ethical, and scientific matters. The ABs support and oversees the development and progression of NEAR related to societal, scientific and ethical matters. 
NEAR Central
Internal leading group. The internal leading group consists of the NEAR Director, Scientific Coordinator, Database Coordinator, and the Scientific Communicator. The internal leading group prepares proposals to the SB on matters related to the strategic plan, budget and policy implementation. 
Operational group. All the activities of the OG are planned and approved by the SB. The OG consists of five members: a Scientific Coordinator, Database Coordinator, Data Scientist, Scientific Communicator, and a Statistician. 
Local Databases. NEAR consists of 15 local databases whereas three of them are also part of two other infrastructures: SIMPLER and SHARE. The principal investigators (PI) of each database, together with their database managers, are responsible for maintaining, upgrading, and enriching the databases with data collected according to strict standards of quality.