September 21, 2023
NEAR symposium at EU-GMS 2023 in Helsinki
On September 20-22, NEAR attended and held a symposium at the European Geriatric Medicine Society (EU-GMS) 2023 in Helsinki, Finland. EU-GMS's mission is to develop geriatric medicine in Europe as an independent specialty caring for older people with age-related diseases. Around 1700 participants from across the world met in Helsinki to discuss and present research results to improve health and care services for the older population.
The well-attended NEAR symposium entitled: "High-Quality Big Data for Geriatric Research: Experiences from the Swedish National E-infrastructure for Aging Research (NEAR)", presented infrastructure and research results from ongoing NEAR projects. NEAR's Scientific Coordinator, Debora Rizzuto, and Scientific Promoter, Davide Liborio Vetrano, chaired the session together.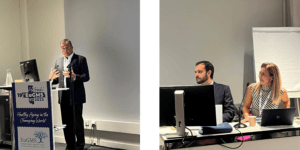 Photo of Scott Hofer, Davide Vetrano and Debora Rizzuto. Photo: NEAR
Scott Hofer from the Pacific Health Research and Education Institute in Honolulu, presented on the importance of high-quality big data from longitudinal population studies in addressing clinical outcomes. This was followed by two presentations on ongoing NEAR projects. One presentation focused on longitudinal profiles of functional limitations in relation to impending death and was presented by Linda Enroth, Tampere University. The other presentation addressed the prognostic value of the health assessment tool (HAT): external validation based on the Swedish National Study on Aging and Care in NEAR, and was given by Amaia Calderón Larrañaga, Karolinska Institutet.



Photo of Linda Enroth and Amaia Calderón-Larrañaga. Photo: NEAR
The symposium's success was evident not only in the depth of the presentations but also in the engaging discussion that followed. Participants, driven by enthusiasm for advancing knowledge, posed numerous questions and provided positive feedback. This collaborative exchange underscores NEAR's role as a catalyst for ongoing exploration and collaboration. We look forward to building on this momentum and further advancing our understanding of longitudinal population studies and their impact on clinical outcomes.