October 27, 2021
NEAR's third workshop, 27 October 2021
NEAR's third workshop entitled: "Methodological issues in harmonizing and pooling of data" was conducted on-site, as well as online with 70 attending participants. It was chaired by Debora Rizzuto.
After a short update and welcome addressed by Laura Fratiglioni, Alexander Darin-Mattsson and Xiaonan Hu presented how to conduct a study within NEAR and demonstrated the NEAR platform.
The invited guests, Scott Hofer, Professor at University of Victoria, and Patrick Curran, Professor at University of North Carolina at Chapel Hill, held two fantastic and inspiring talks on introduction and more advanced methods for pooling and harmonizing data.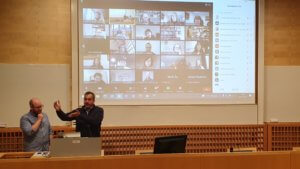 The workshop ended with a group assignment where the participants were divided into smaller groups and had the opportunity to conduct harmonization on NEAR data by using the NEAR platform.
The presentations and group assignments rendered a lot of discussion and positive comments and will likely lead to future collaborations.
Read program here.