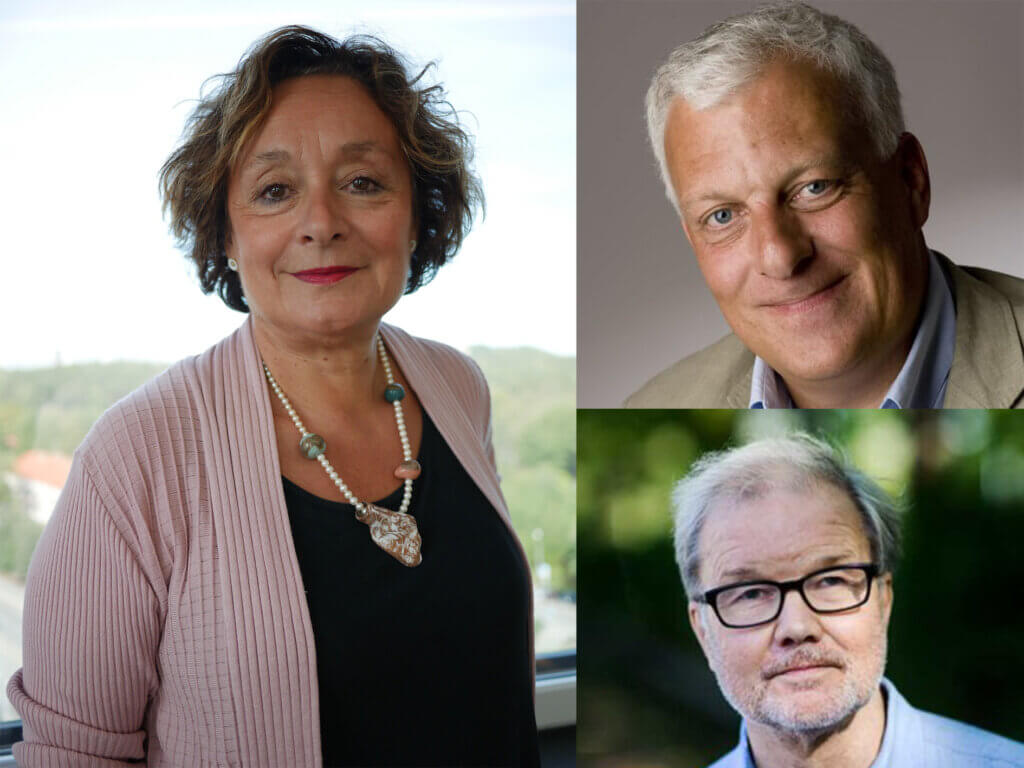 Laura Fratiglioni, Johan Sanmartin Berglund, Ingmar Skoog
The Ministry of Social Affairs recently decided on new appointments for the members of the Council on Geriatric Research, among which we find profiles involved in the National E-infrastructure (NEAR), as well as researchers at the Aging Research Center (ARC) at Karolinska Institutet. 
The Council on Geriatric Research was established in 2019 with the aim and purpose to foster communication between researchers and the Government of Sweden.
Laura Fratiglioni, Director at NEAR and Professor in Medical Epidemiology at ARC, Karolinska Institutet, Ingmar Skoog, professor at Gothenburg University and Johan Sanmartin Berglund, Professor at Blekinge Tekniska Högskola are all members of the council and involved in NEAR.
Mats Thorslund, professor emeritus in Social Gerontology and affiliated at ARC, is appointed as new member of the Council.
All members of the Swedish Goverment's Council on Geriatric Research 
Magdalena Elmersjö, Associate Professor and Senior Lecturer in Social Work, Södertörn University

Laura Fratiglioni, Professor in Medical Epidemiology and Director of NEAR, Karolinska institutet (ARC)

Christine Gustafsson, Professor in Care Sciences, Sophiahemmet University

Kristiina Heikkilä, Senior Lecturer in Health and Caring Sciences, Linnaeus University

Linus Jönsson, Professor i Health Economics, Karolinska Institutet

Miia Kivipelto, Professor in Clinical Geriatrics, Karolinska Institutet

Clary Krekula, Professor of Social Work, Linnaeus University

Amy Loutfi, Professor i Information Technology, Örebro University

Erik Rosendahl, Professor in Physiotherapy, Umeå University

Johan Sanmartin Berglund, Professor in Health Sciences, Blekinge Tekniska Högskola (BTH)

Pär Schön, Associate Professor and Senior Lecturer in Social Work, Stockholm University and Karolinska Institutet (ARC)

Ingmar Skoog, Professor in Psychiatry, University of Gothenburg

Annika Taghizadeh Larsson, Senior Associate Professor in Gerontology, Linköping University

Mats Thorslund, Professor em. in Social Gerontology, Karolinska institutet (ARC)

Britt Östlund, Professor em. In Technology and Social Change, The Royal Institute of Technology (KTH)
Every year, the Great Gerontology Prize is awarded by the Swedish Gerontological Association, SGS to people who have made a name for themselves in the elderly and aging field. During the autumn, the SGS board received nominations and at the beginning of December it was announced that the recipient of the 2023 Great Gerontology Prize is NEAR Director Laura Fratiglioni, Senior Professor at KI and Aging Research Center!
During a long career, Professor Fratiglioni has contributed greatly to aging research and raised issues of the elderly and aging on the scientific and political agenda. Her research focuses on dementia, multimorbidity and functional impairment in the elderly.
– I am delighted to have been awarded the major gerontology prize by the Swedish Gerontological Society. It means a lot to me that my efforts in Aging Research are appreciated and recognized through this award.
On March 27, Laura Fratiglioni will give her award lecture on Gerontology Day at Linköping University, Campus Norrkoping.
From the 1st of November we are happy to welcome Maria Wahlberg as a Database Coordinator in the NEAR team.
Maria has a Master of Science degree in Statistics from Linköpings Universtitet. She has worked as Data manager for the Kungsholmen Project since 1997 when she began her carrier at Karolinska Institutet. Since the start in 2001 Maria has also worked as Data manager for SNAC-K. The last 10 years she has been part of the SNAC-K executive group as well as the national SNAC coordination group.
– Maria is a strong addition to the NEAR team. With her long experience, large networks both at ARC but above all within SNAC, we are sure that Maria will contribute a lot of value to NEAR and be a natural link between all our database managers, says Debora Rizzuto, Scientific Coordinator NEAR.
We are very happy to welcome Maria to the NEAR Central Operational Group!
Photo: Maria Youhang
On September 15, Basile Rommes joined NEAR as a Software Developer. We took the opportunity to ask a few questions to get to know him a little better.
You are new to the team at NEAR. Tell us, who are you?
I am originally from Luxembourg, I have a Master of Bioinformatics from the University of Copenhagen and joined NEAR as a Software Developer. My interests include data wrangling, statistics, and website development. I also like teaching.
What will you do at NEAR?
As a Software Developer I will be involved in the development and maintenance of NEAR platform but also make clean metadata of the NEAR database and harmonize data. Scientists inside and outside of KI will work with me in the early stages of their project so they get the data they need. A big part of that involves harmonizing data coming from different cohorts, different waves within a cohort or different databases. By harmonization we understand the "translation" of a group of variables that describe the same thing into a uniform code such that it is usable for further analysis.
What did you do before you came here?
I was working for the Luxembourg Centre for Systems Biomedicine (LCSB), a biomedical research center. The group I was working with enabled the researchers to efficiently manage, analyze and interpret their data, so my tasks were quite similar to those at Karolinska Institutet. Now being here, seeing different solutions to the same problem have been very educational for me, and I plan to translate the methods and knowledge gained in data management to the challenges we face at Karolinska Institutet.
What do you do when you go home? In your spare time?
I enjoy doing sports, right now, especially bouldering/climbing which has risen much in popularity in recent years. I also love going out into nature and can't wait to hike in the Tyresta nationalpark near Stockholm. Having freshly arrived in Sweden, I of course I also do a lot of tourism on my weekends, exploring the local Parks, Museums and Restaurants.
Once again, we are very happy to welcome you to our team at NEAR and are convinced that you will contribute a lot of knowledge that will contribute to the development of NEAR.