NEAR will organize its next workshop in collaboration with the Ferrero Foundation during Healthy Aging Week 2023.
From 6 to 11 November 2023, the Ferrero Foundation of Alba will host Healthy Aging Week 2023, a series of scientific events, seminars, and workshops organized by the Ferrero Foundation in collaboration with the Academy of Medicin of Turin, the Università Cattolica del Sacro Cuore of Milan, and the Karolinska Institutet of Stockholm.
On Wednesday 8 November, the NEAR Workshop entitled: "New Possibilities for Aging Research in Europe", will be organized by Karolinska Institutet and the Ferrero Foundation.
Read more about conference information, abstract submission, and the program.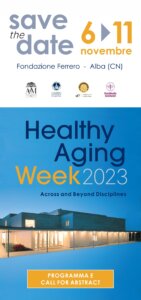 We are happy to announce that NEAR will hold its third workshop on "Methodological issues in harmonizing and pooling of data", 27 October 10 AM- 3 PM. Due to the current situation, the workshop will take place online (Zoom) and onsite (KI Solna Campus) for selected participants only. 
Register for the event latest by 26 October using this link: https://survey.ki.se/registration_NEAR_WS
You are more than welcome to participate!