Dates
NEAR FOUNDATION
The National E-Infrastructure on Aging Research (NEAR) is a multidisciplinary resource including the major population-based longitudinal studies on aging and health in Sweden.
Founded: September 2017
Databases included: 15 (see map for geographical location)

Participants: 180.000 individuals 

Age-range: 50 years or over
Study periods: Minimum 11 up to 50+ years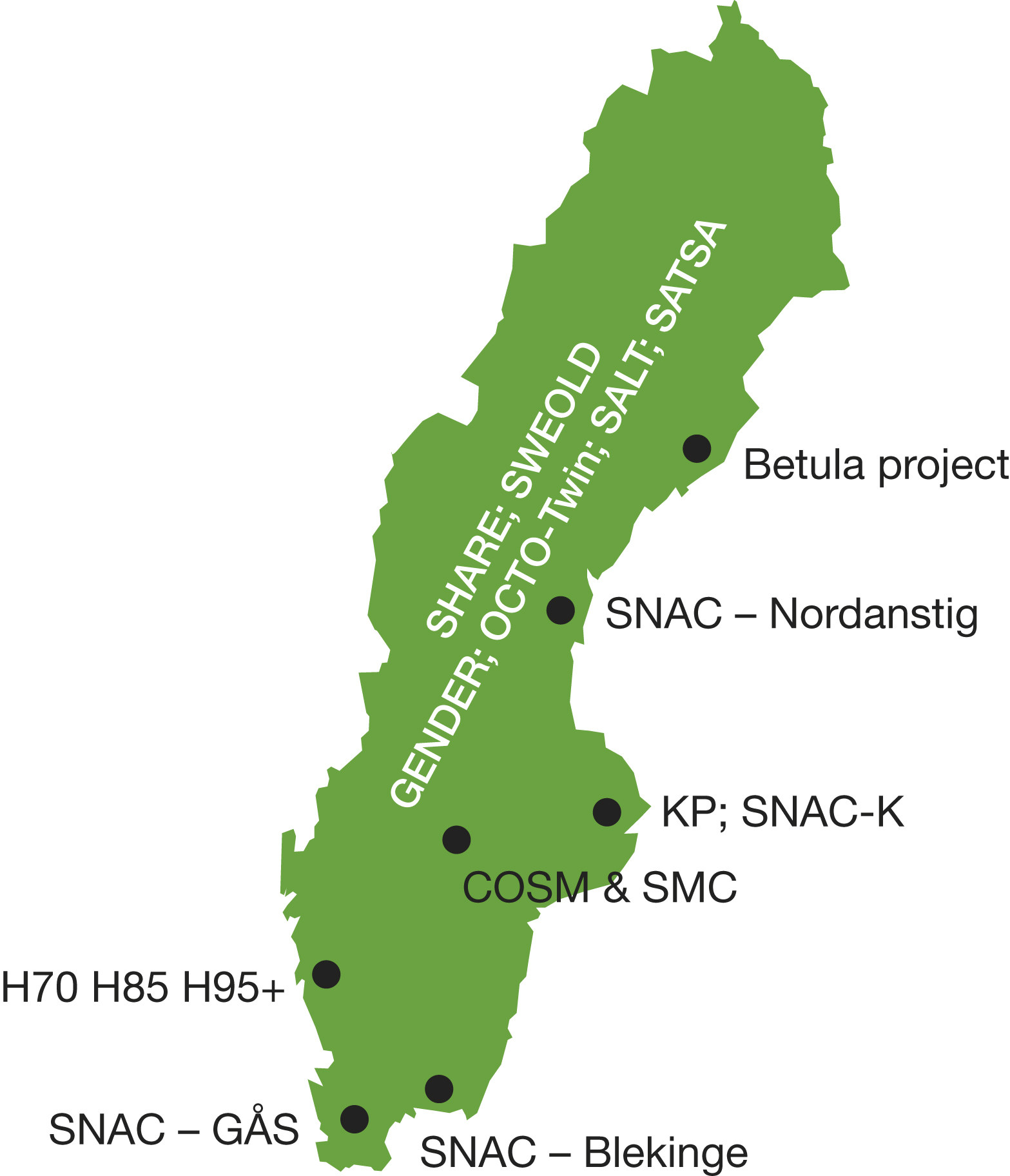 NEAR'S FIRST SCIENTIFIC WORKSHOP
On March 7th to March 8th, the National E-Infrastructure on Aging Research (NEAR) hosted its first internal scientific workshop to initiate discussions for potential future research collaborations. On behalf of Karolinska Institutet, the Vice President of Research, Anders Gustafsson, welcomed everyone and enlightened the importance of epidemiological aging research, as well as the added value of national collaborations across the largest Swedish Universities in the medical field. The workshop continued with that the Director of NEAR, Laura Fratiglioni, and the Scientific Coordinator, Debora Rizzuto, had presentations about NEAR. This was followed by speakers with experience of research collaborations across various databases/studies.
In the afternoon brainstorming sessions took place to facilitate discussions of future research collaborations. On Friday the workshop ended with presentations and discussions of the future research projects and collaborations. Overall, the workshop was very successful, resulting in interesting and important research- and methodological related discussions, new ideas, as well as proposals of 10 future research studies.
For detailed program: NEAR Program_Workshop_7 to 8 March_2019 _Final
NEAR AT THE IAGG-ER conference
NEAR was well-represented during the International Association of Gerontology and Geriatrics European Region (IAGG-ER) Congress 2019 in Gothenburg.
The NEAR director Laura Fratiglioni had a key stage talk with the title: "NEAR: A common effort for a better future" where she talked about how solutions for a better life in old age can be found in Swedish research.
NEAR'S SECOND SCIENTIFIC WORKSHOP
NEAR's second scientific workshop was conducted remotely over Zoom with 82 connected participants. It was chaired by Debora Rizzuto.
Presentations on NEAR sleep disturbance and cognition project, the project to examine the health consequences of the increasing life expectancy by analyzing disability rates and trajectories, lifetime determinants of the cognitive status in older age, and NEAR platform are given.