On March 9-10, the database managers of NEAR held a two-day workshop on-site at the Aging Research Center at Karolinska Institutet, with the main purpose of discussing and developing overall matters of database management. The first day was focused on publishing and sharing your data, where three representatives from the KI Data Access Unit (DAU) held a presentation about open access to research data, sensitive data, and legal aspects of storing data.
In the evening, the database managers and NEAR Operational Group went out for dinner together at the restaurant "Stallmästaregården".
The second day was devoted to the NEAR application process and data delivery from the local databases and ended with lunch and a summary of the workshop. Overall, the workshop has rendered many discussions and new ideas, which will be implemented for future work within NEAR.
On 18-19 October, 60 persons from 12 different universities gathered at Karolinska Institutet in Stockholm for NEAR's annual workshop. This year's workshop focused on collaboration. More specifically the purpose was to create more opportunities to work together, learn more about other infrastructures' work, and what we can learn from each other. The workshop was chaired by Debora Rizzuto, Scientific Coordinator at NEAR, Laura Fratiglioni, Director of NEAR, and Scott Hofer, Professor at Oregon Health & Science University.
After a welcome from NEAR's Director, Laura Fratiglioni, and Karin Dahlman Wright, Professor from Karolinska Institutet, the workshop continued with an update about research infrastructure from a national and future perspective from the Swedish Research Council.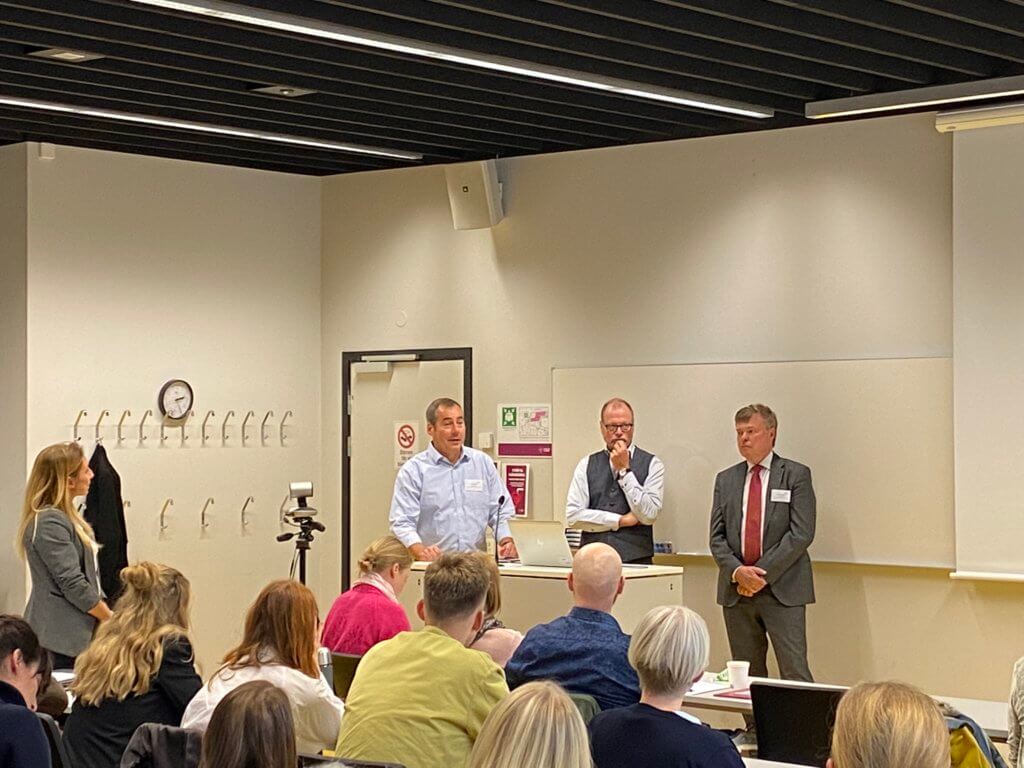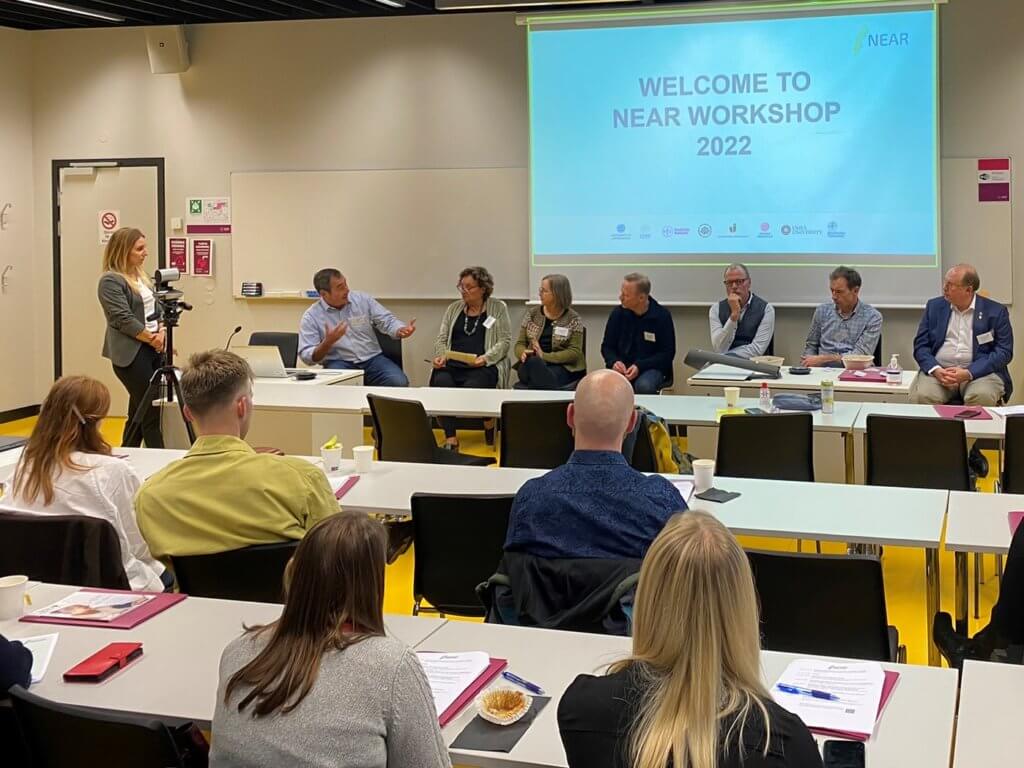 Several representatives from five other research infrastructures were invited to the workshop to present their organizations: SIMPLER, CORS, STR, SWEDPOP, REWHARD*. There was also an interesting discussion from an international perspective to learn more about infrastructures outside Sweden.
On the second day, the workshop focused on an update on ongoing NEAR projects. The day ended with a team activity that challenged participants to find opportunities for potential work projects within NEAR. In addition, participants were challenged to find projects that could be linked to any of the other infrastructures represented on-site.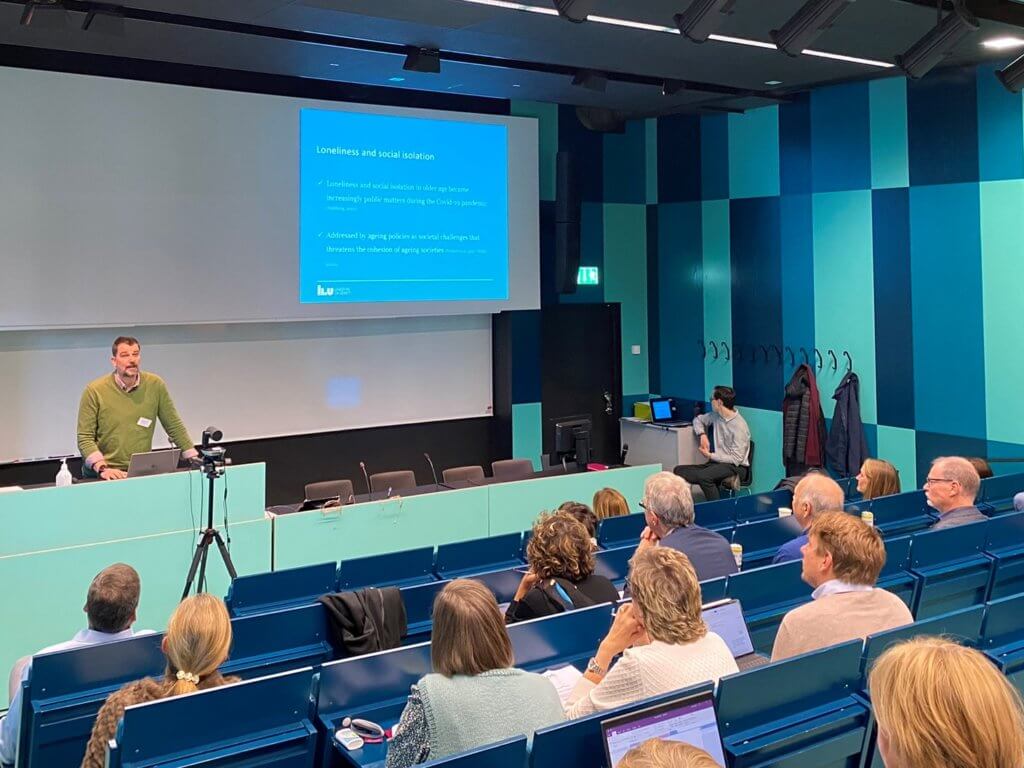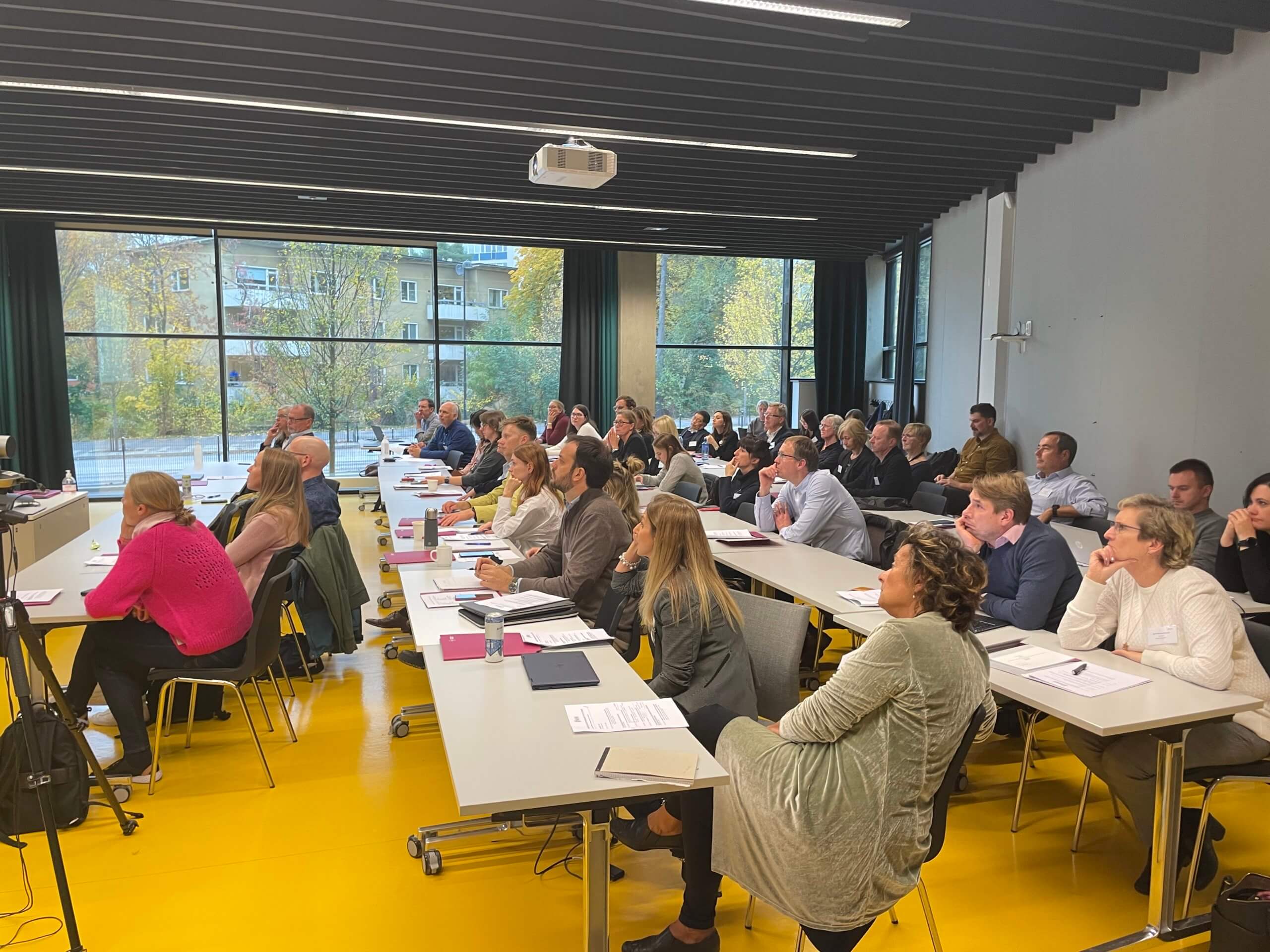 During the two days of conversations, discussions, presentations, and interesting questions, NEAR met the purpose of the meeting. The workshop resulted in several creative proposals for development, collaboration, and concrete ideas to optimize research infrastructures. These proposals can contribute to better health for older adults.
* Swedish Infrastructure for Medical Population-based Life-course and Environmental Research (SIMPLER); Comparative Research Center Sweden (CORS); Swedish Twin Registry (STR); Swedish population databases for research (SWEDPOP); RElations, Work and Health across the life-course – A Research Data Infrastructure (REWHARD).
NEAR's third workshop entitled: "Methodological issues in harmonizing and pooling of data" was conducted on-site, as well as online with 70 attending participants. It was chaired by Debora Rizzuto.
After a short update and welcome addressed by Laura Fratiglioni, Alexander Darin-Mattsson and Xiaonan Hu presented how to conduct a study within NEAR and demonstrated the NEAR platform.
The invited guests, Scott Hofer, Professor at University of Victoria, and Patrick Curran, Professor at University of North Carolina at Chapel Hill, held two fantastic and inspiring talks on introduction and more advanced methods for pooling and harmonizing data.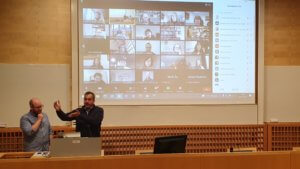 The workshop ended with a group assignment where the participants were divided into smaller groups and had the opportunity to conduct harmonization on NEAR data by using the NEAR platform.
The presentations and group assignments rendered a lot of discussion and positive comments and will likely lead to future collaborations.
Read program here.
NEAR's second scientific workshop was conducted remotely over Zoom with 82 connected participants. It was chaired by Debora Rizzuto.
After a short update and welcome address by Laura Fratiglioni, Johan Skoog from the University of Gothenburg presented the NEAR sleep disturbance and cognition project, an ongoing cooperation between researchers in the H70, KP&SNAC-K, GÅS/SNAC-S, CAIDE studies and the NEAR operational group. Both insomnia in midlife and long sleep duration has been shown to be associated with higher risk for dementia, and sleep disturbances are also associated with lower MMSE scores. Multi-level models are applied but more work is needed to harmonize the differing variable measurements between the studies.
Linda Enroth from Tampere University, Finland, presented the outline of a project she is setting up, using NEAR data from nine studies. The general aim of the project is to examine the health consequences of the increasing life expectancy by analyzing disability rates and trajectories during the last years of life. It further seeks to investigate the role of sex and socioeconomic inequality behind these traits.
Enrico Ripamonti, NEAR statistician, gave a presentation on ongoing collaborative work regarding lifetime determinants of the cognitive status in older age. The work employs several waves from six databases from SOFI, NEAR and Finnish studies, including life-level analyses of younger age cohorts with outcomes at high age (>75 years).
The NEAR platform for database access and analysis will be launched during the autumn. Xiaonan Hu, NEAR data scientist, ended the workshop by demonstrating its functionality and showing examples from the SNAC-K study, which is already accessible.
The presentations rendered many follow-up questions and positive comments and will likely lead to future cooperations.
We are happy to announce that NEAR will hold its second workshop 23d of September online. You are more than welcome to participate!
Link to Zoom meeting: https://ki-se.zoom.us/j/62280692747
Welcome to the second NEAR Workshop, at 13–15
Chair:Debora Rizzuto, NEAR Scientific Coordinator, Assistant professor in epidemiology
13:00–13:15 Welcome and update
Laura Fratiglioni, Professor at KI, PI for SNAC-K & KP, and Director of NEAR
Presentations:
13:15–13:35 Sleep disturbances and cognitive decline
Johan Skoog, PhD Student, Gothenburg University.
 13:35–13:55 Physical function before death
Linda Enroth, PhD, Tampere University.
BREAK
14:10–14:30 Lifecourse determinants of health status among elderly
Enrico Ripamonti, PhD, NEAR Statistician
14:30–14:45 Launch/demonstration of the NEAR Platform
Xiaonan Hu, PhD, NEAR Data Scientist
NEAR'S FIRST SCIENTIFIC WORKSHOP
On March 7th to March 8th, the National E-Infrastructure on Aging Research (NEAR) hosted its first internal scientific workshop to initiate discussions for potential future research collaborations. On behalf of Karolinska Institutet, the Vice President of Research, Anders Gustafsson, welcomed everyone and enlightened the importance of epidemiological aging research, as well as the added value of national collaborations across the largest Swedish Universities in the medical field. The workshop continued with presentations about NEAR by the Director of NEAR, Laura Fratiglioni, and the Scientific Coordinator, Debora Rizzuto. This was followed by speakers with experience of research collaborations across various databases and studies.
In the afternoon brainstorming sessions took place to facilitate discussions of future research collaborations. On Friday the workshop ended with presentations and discussions of the future research projects and collaborations. Overall, the workshop was very successful, resulting in interesting and important research- and methodological related discussions, new ideas, as well as proposals of 10 future research studies.
For detailed program: NEAR Program_Workshop_7 to 8 March_2019 _Final